Prior to navigating to the Select Action Drop-Down you will need to create and save a filter (if you do not it will schedule for every employee to get form)
Schedule Forms on Active Employees
From Action drop-down Select Schedule form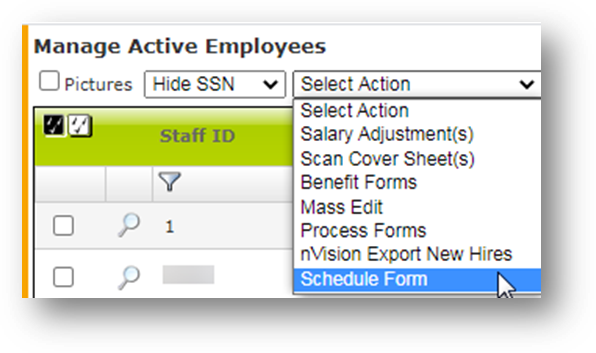 Select a form from the drop-down options and create a name for the scheduled form.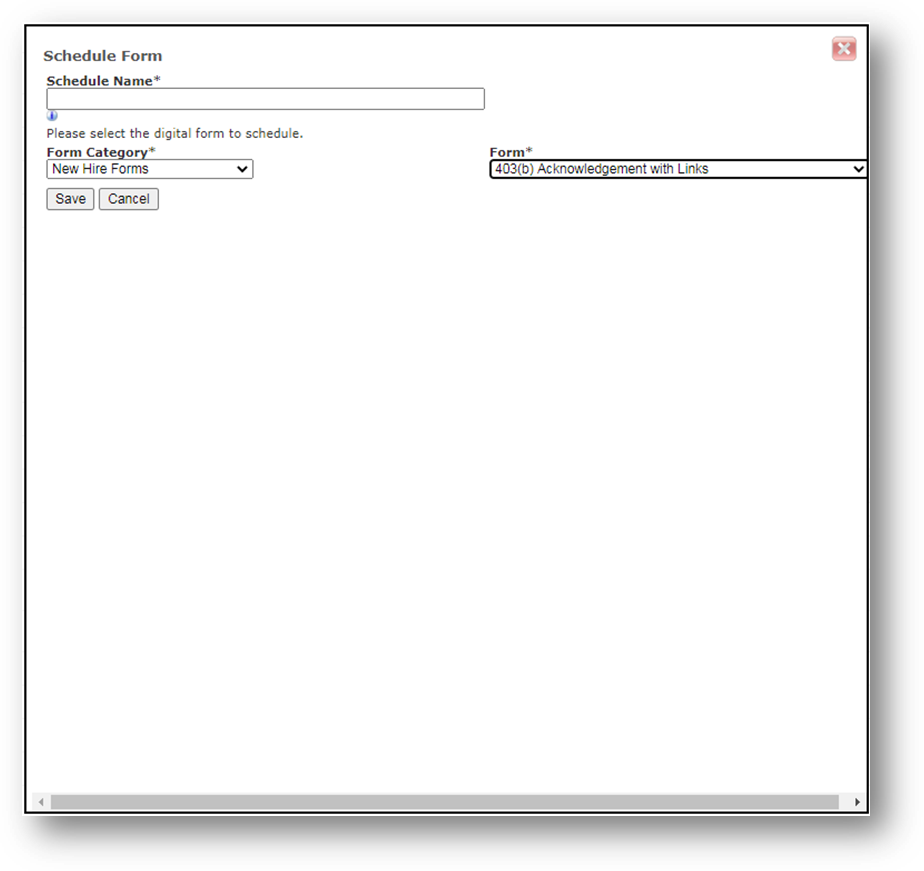 Select Save once you have given the Schedule a name and selected the Form category and Form from the drop-down options.

Navigate to the Manage Scheduled Forms grid under the Process Forms menu option to create the schedule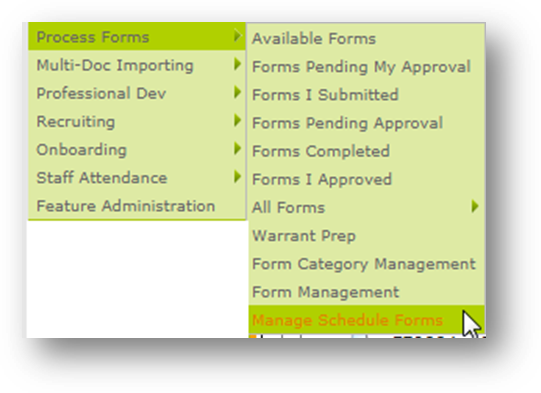 Select the Schedule you wish by using the magnifying glass
Schedule Events
Select New Schedule Form Event

Select the Start and End Date, Time, Frequency, and Time between runs.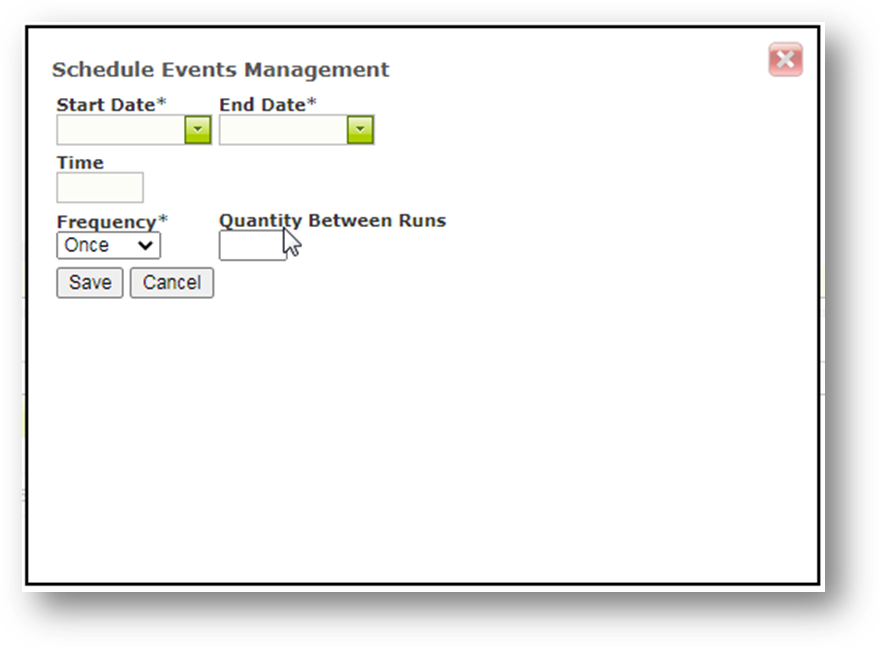 (Example: If you want to create a daily form to be sent set as weekly with the quantity between runs set to 1, then copy for each day of the week)

Note: You may use the Copy Schedule so that if you create your ideal schedule you can then copy to use multiple times.
Schedule Emails
Select New Schedule Email
Select Either Error Only, Success Only, or Both to receive an email based upon the status of the scheduled event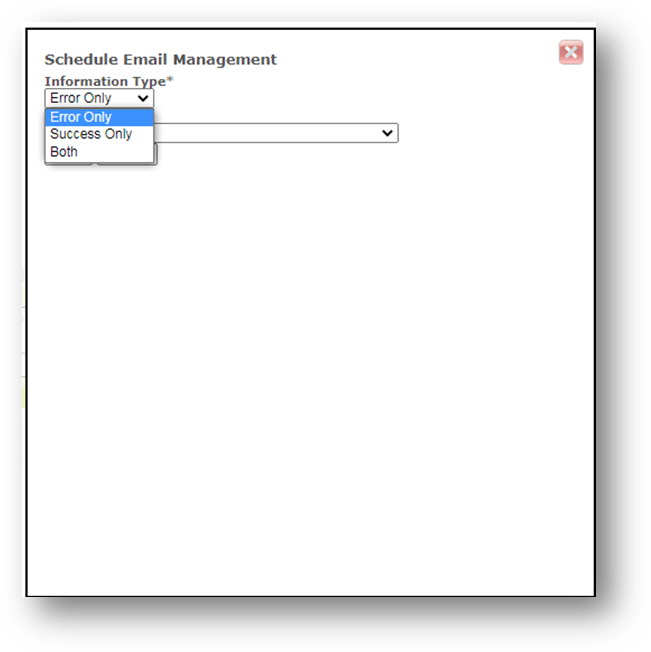 Select the Staff Member you wish to have emailed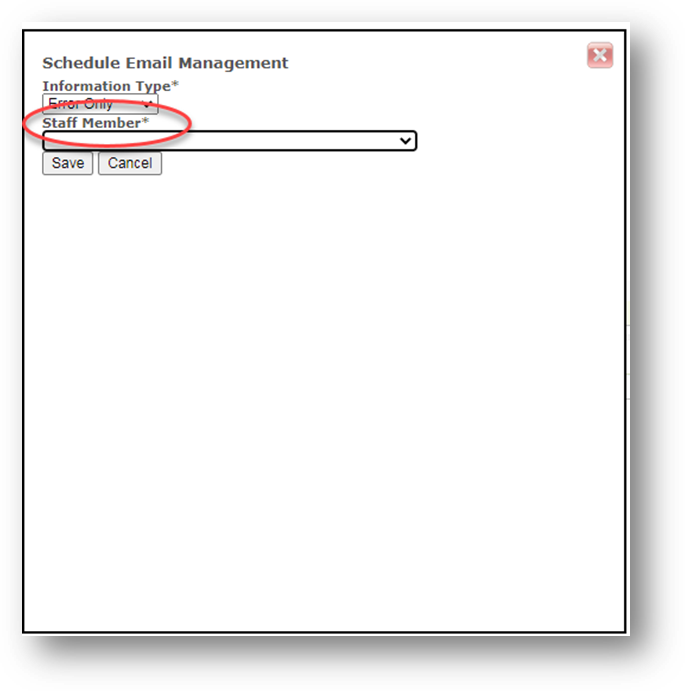 Select Save
Schedule Runs
This listed the Complete runs (Succeeded or Failed) for the job.
Notes:
A task runs every 15 minutes to see if there is anything to run so a task scheduled for 7:01 may not run until 7:15. The task determines what needs to be run, then executes the saved search on the employee grid, and then generates the forms.
The search that is selected with the form is real-time, so the results could change if new users match / don't match the search criteria.
Do not schedule to run in the middle of your feed from your financial platform. You can currently determine this by looking at the Employee Import Log. We will add a warning in the future at the top of the scheduler and may at some point prevent you from scheduling during the import time + / 30 minutes. Scheduling during the run could give you unintended results for your search.
Users of the SchoolFront Attendance module can include the employee work schedule information in the employee search criteria (e.g. Works Today, Works Tomorrow, Worked Yesterday) to include / exclude employees