Document Groups can be defined that allow for groups of applicant candidates documents to be downloaded in a PDF Package.
Define the Document Group:
Navigate to the District Document Groups Page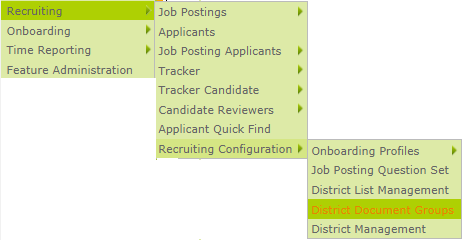 Select New Document Group

Enter Document Group Name and Description. Click Insert
Hidden - If checked when a user has the Personal Profile Role and attempts to generate Document Groups, the hidden group will not be available.
The Document Type tab will appear. Select New Job Document Type

Select the File Type from the Drop-Down Menu.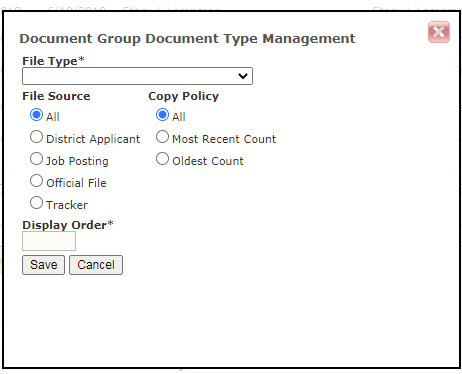 Select the File Source

District Applicant- any documents from the application
Job Posting- any required documents that the applicant has to upload

Select the Copy Policy

Note when selecting. "Most Recent Count" the system will ask you to input a retention count.
** Note: recommended method is to select All for the file source and Most Recent Count with a retention of 1 in order to pull documents from the job posting and to prevent duplicates of files***
Enter the Display Order and Select Save