Throughout the system you will see information in the SchoolFront Main Window displayed in data grids. Data grids allow you to browse records, search records, and filter records upon command. After you sort and filter records in a data grid. You can export the data into Microsoft Excel™ and/or save the display as a personal "view" which you can use to recall the display you configured whenever you need it.
In the example below, a data grid from the "Discipline" section is shown.

You can use SchoolFront data grids to quickly track down and view records. With this function you can also easily aggregated system information without having to create a special report, you can also create and save multiple personalized data grid "views" which will allow for all data to be accessible in a personalized format.
Browse Records in the Data Grid
Data grids usually contain many records, and each record contains numerous amounts of data. The volume of information is usually too large to completely fit on your computer screen, therefore it's displayed using scrolling and sometimes needs multiple pages to fully display.
Scroll Bars Allow You to See Up and Down, Left and Right
To browse through all records in the data grid, you can navigate using the scroll bars on the right-side (to go up and down) and bottom of the grid (to go left and right).
The example grid pictured below is the "Manage Students" grid. You can see the scroll bars on the right and bottom of the grid.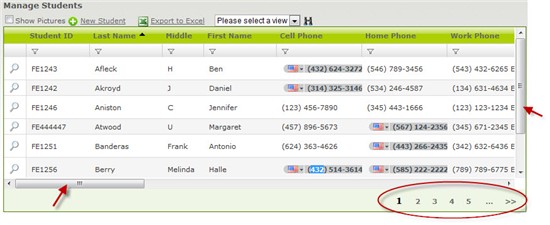 Pages Allow You to See More Records
To browse multiple pages of records, click the page numbers at the bottom-right of the grid. In the example below you can see the clickable page numbers at the bottom of the grid.