Custom data grid layouts can be used for ad hoc reporting / custom reporting purposes when you create a custom grid layout and then export the resulting data.
Exporting Data from a Grid with a Custom Data Grid Layout
1. Go to any data grid.
2. Select an existing custom data grid name from the Layouts drop-down menu.

3. The custom grid layout you select will be applied to the grid.
4. If you have any saved views that you want to apply to the grid, apply the saved view by selecting the name of the view from the Views drop-down menu at the top of the grid.
OR
If you do not have saved views but you want to manipulate the displayed data, click column names displayed in the grid to change the order of the data in the column from ascending to descending and from descending to ascending. (Optional)

You can also use the column filters to only display specific data in the grid. (Optional)
.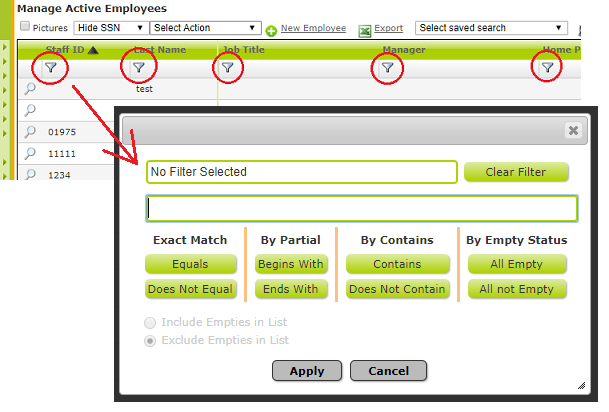 5. Once the data appears as you want it to appear in your export, export the data: Click Here for export instructions.