Employees can log into SchoolFront to view any Internal Job Postings for their school district/BOCES.
Personal Profile Users - Navigate to "Available Internal Jobs"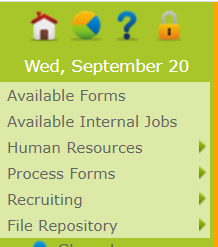 All Other Roles - Navigate to "Recruiting" -> "Available Internal Postings"

A grid of all current available internal job postings will appear. All related information regarding the job posting will display in the columns.
To apply for a position, select the Apply link next to the Job Title.

Job Postings may require any of the following:

Additional questions
Documents to upload
In the example below, a Cover Letter is required in order to apply for the job.

Upload required document(s) and select Submit Application. The employee will receive an email confirming their application to the job posting.

The grid will update with the date and time that the application was submitted: