Upload signature images
SchoolFront users with Administrator and IT Administrator roles has access to upload signature images. The purpose of this feature is to allow districts/ BOCES to upload images of signatures for various roles within the organization in references within the forms and templates.
It is highly suggested that Districts/BOCES use these markers instead of manually referencing a URL with an image tag, as if people change roles, every template with the URL reference would need to be updated.
Navigate to District Signatures within the Feature Administration menu

Select button to select and upload the signature file.

Guidelines for the image upload: max resolution of 200dpi, max width of 400px.

*files larger than this may be distorted

Signatures should be cropped to fill the image in order to allow for easy placement of the signature.

You have options to have signatures for the follow departments/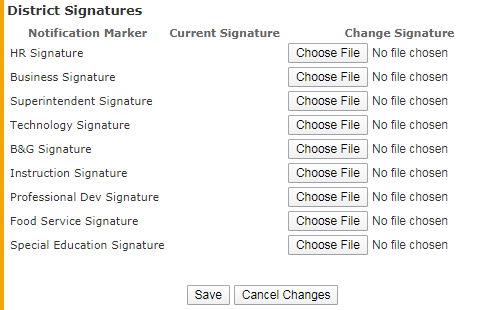 Human Resources
Business Office
Superintendent of Schools
Technology Office
Building and Grounds
Instruction
Professional Development
Food Service
Special Education Department

Once you have uploaded the corresponding signatures, select Save.
These signatures will now become notification markers within the Template Builder and can be placed within Process Forms.