SchoolFront users with Administrator, Human Resources, and Attendance Supervisor Roles have access to the Staff Attendance Setup menu options.
Leave Banks need to be defined if the district is contractually obligated to have them by bargaining unit.
Create a New Leave Bank
1. Navigate to Time and Attendance - Setup - Attendance Setup - Leave Banks
2. To create new Leave Bank, select New Leave Bank

3. On the Details tab, enter in the following information:

Leave Bank Name
Leave Bank Description
Click Insert
4. Once Leave Bank is created, it needs to be linked to an Attendance Group/Absence Code.
See (Attendance Groups) - Absence Code section.
4.Go to the Staff tab. All employees that are in the Attendance Group associated with the Leave Bank will show here.

Any new employees added through the Attendance Group will automatically populate in the Leave Bank.
Use the red X to delete anyone who is not participating in the Leave Bank.
An employee can be added back into the Leave Bank by clicking New Staff.
5. Go to the Balance Adjustments tab. Use this tab to enter in Starting Balances as well as any employer contributions.
Click New Balance Adjustment

Enter information below and click Save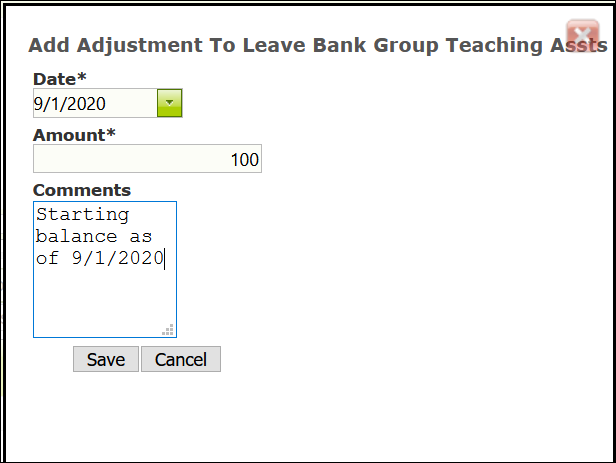 6. Use the Transactions tab to see all transactions that have been posted