My HR Dashboard is also the landing page for all district users when they log into SchoolFront. You can customize your dashboard by using standard Word processing tools.
Applicable System Roles
HR Admin/HR Team
Administrator (Navigate to Human Resources/My HR Settings)
The following sections on the Dashboard can be modified:
Introduction Text
Upcoming Deadlines
Helpful Links
Professional Dev Courses (Show PD Courses must be checked)
Your Personnel Folders (Personnel Folders Enabled must be checked)
Supervisors View of Employee's Folders (Must be checked)
*You cannot modify the "Items Requiring Your Attention" section, as that is a system-functioning section based on your role and what is assigned to you in the system.
Here is an example of a Dashboard:

In order to set or modify the display of the Dashboard - the landing page your school district will see when logging into SchoolFront, navigate to "My HR Settings" in the left navigation menu (Administrators navigate to Human Resources/My HR Settings):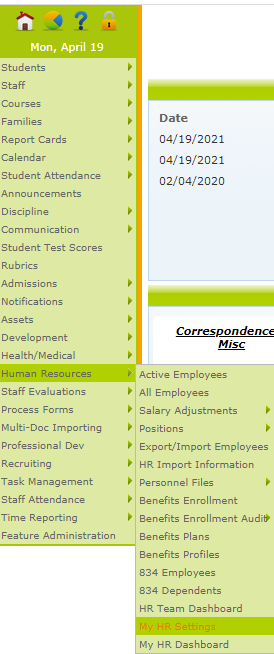 My HR Settings will display. Once you have entered the information using the Word Processing toolbar, click Save.