Applicants may contact the district when using RecruitFront to complete their application and apply for jobs. The list below is a compilation of troubleshooting some of the issues that the applicant encounters.
Applicant completes the application and thinks that they have applied for the job. These are normally applicants who are completing the application for the first time. In this case, let them know that they will only receive an email notification when they have applied for a specific job. They should go to the Job Opportunities page to see the job postings for your specific district or the Job Board for all jobs currently posted for all districts.
Applicant goes through application, but in each section clicks "Save Draft and Continue". "Save Draft and Continue" does not save the section. They need to make sure that they click "Validate, Save and Continue".

On the final validation screen they should check to make sure each section has a green check mark. If there are any with an orange exclamation mark, they should click that section to go back and fix, then "Validate, Save and Continue".

The one section that requires the most information is the References. There is a minimum of 3 required and all fields need to be completed.
On other sections, for example, Experience, all information for each experience needs to be filled in (except for end date and reason for leaving).
If there is an error in any of the sections, the error message will appear at the top of the section. The screen shot below is the Student Teaching section. If they answer Yes and select a district, they need to complete all of the information for that district.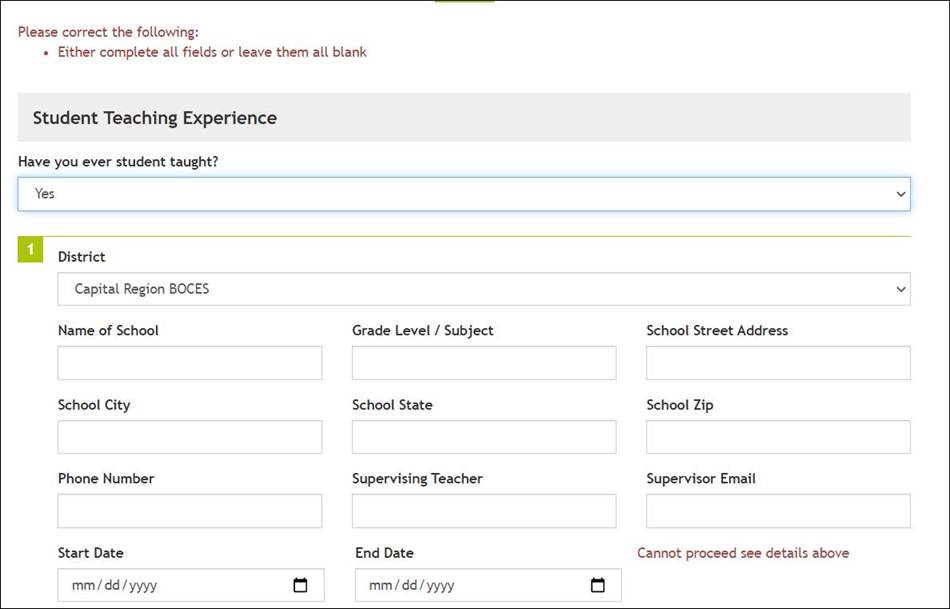 Applicants may complete the wrong application type for the job posting. For example, they have completed the Teacher/Admin application, however the job posting is for School Related Personnel.